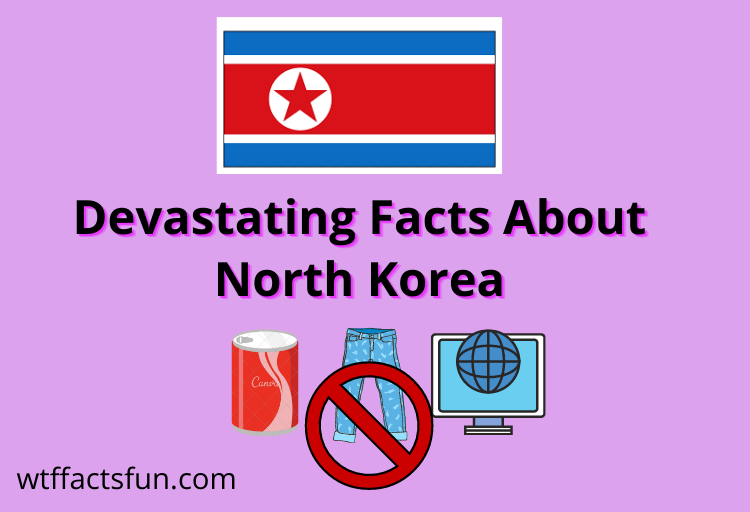 Devastating Facts About North Korea
Devastating Facts About North Korea: Friends, today in this article we will tell you about the devastating facts of North Korea. It is called the hell of the world. You will be shocked to know these facts and thank God that you were not born in this country.
1. North Korea has banned drinking coke in its country. Apart from this, there is no McDonald's branch there. This is because North Korea hates the US and refrains from using things there.
2. The people of North Korea also imposed a ban on the use of the Internet by the dictator government there. In today's digital age, banning the Internet is a huge injustice.
3. The people of North Korea cannot move from one city to another without the government's permission. There is a provision for punishment for doing so.
4. When children are young in the school of North Korea. They are given a 173 hours course. In which children are taught about the likes and dislikes of the dictator Kim Jong.
5. There are only 3 channels for the people of North Korea to watch on TV. These are official channels. Only the government and Kim Jong Un are praised on these channels. In this way, the government has kept the people of the country completely disconnected from the world.
6. It is customary for the people of North Korea to put photos of Kim Jong Un and his father in every house.
7. Elections are held from time to time to show in North Korea. But, only people there can vote for Kim Jong-un. It is totally against democracy.
8. The people of North Korea cannot even choose their hairstyle as per their will. The government has selected 10 hairstyles for men and 18 hairstyles for women. Everyone has to keep their hair according to those hairstyles. Failing to do so, he is sent to jail.
9. In North Korea, no girl can wear Western-style clothes. Apart from this, there is a complete ban on the wearing of blue jeans. The government has appointed the fashion police to check people's clothes and hairstyles in the public area.
10. The people of North Korea have to give their shit to the government authority. So that the government can make manure. It was decided when South Korea refused to give fertilizer to North Korea.
11. In North Korea, women can keep their hair long before marriage. But after marriage, they have to cut their hair short as per government rule.
12. If a foreigner wants to visit North Korea, then he must necessarily keep a guide with him.
13. In North Korea, Traffic Ladies have been replaced by Traffic Lights. Many rules are kept in mind while choosing these traffic ladies.
14. North Korean dictator Kim Jong-Un killed his uncle by throwing him in front of 120 hungry dogs because he slept while Kim Jong Un delivered his speech.
15. In North Korea, no man can even paint his house as per his will because there is a rule to paint all houses brown.
16. In North Korea, if a man breaks the rules made by the government. Then his three generations are punished.
Final Words:
Thus the rule in North Korea is very strange and very pathetic for the people there. We hope you have liked this post's devastating facts about North Korea. You can give your opinion about this article in the comment.
Read more:
10 Fun Facts About James Buchanan
10 Fun Facts About Mercury for Kids
9 Fun Facts About the Stratosphere layer
22 Fun Facts About Raccoons For Preschoolers