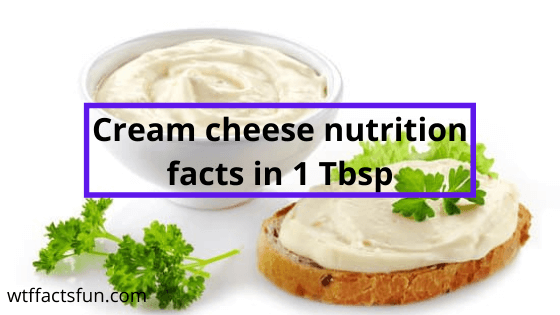 Cream cheese nutrition facts
Cream cheese is a product we use frequently. We sometimes take it on top of toast and sometimes in another way. In this article, we will discuss the nutrition facts of cream cheese. Cream cheese contains high fat. It also contains some amount of protein and carbohydrate but it does not have fiber at all.
It is a very good source of Vitamin A. This is very beneficial for our eyes. Those who want to increase their weight or who are very thin should include cream cheese in their diet along with the gym.
It is very tasty to eat because of which we can easily include it in our diet. It is made from a mixture of milk and cream. We get 50 calories of energy from 1 tablespoon of cream cheese. Those who do not use this due to high fat, they should use low-fat cream cheese, however it is found less fat than butter.
Read also: Interesting fact about world war 1
Cream cheese calories 1 tablespoon
| | |
| --- | --- |
| Calories in 1 tablespoon (14.5 gm) | 50 |
| Protein | 1 gm |
| Carbohydrates | 1 gm |
| Fat | 5 gm |
| Vitamin A | 43.5 mg |
| Fiber | 0 mg |
cream cheese nutrition facts
We hope that you might have liked the cream cheese nutrition facts information given by us, you can also comment about it below.